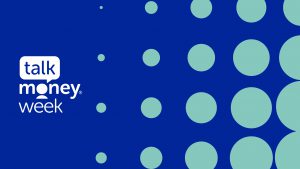 For the past two years, the Money Advice Service has run Financial Capability Week to raise awareness amongst the public and bring together the various sectors involved in personal finance to tackle money issues.
However, the biggest challenge is breaking down the cultural barriers to talking about money in the first place.
We developed a new brand umbrella, Talk Money Week, to house the weeklong campaign that encouraged everyone to talk more openly about money issues.
Our ambition was to create five headline bursts across the week, bring a range of stakeholders on board, to reach consumers and get everyone openly talking about money.
We created fame by promoting big moments during Talk Money Week – with a focus on one of the five key themes per day. Monday: debt, Tuesday: savings, Wednesday: pensions, Thursday: credit and Friday: personal finance education.
A multi-channel integrated campaign, Talk Money Week involved stakeholders, media, influencers, events and partners, and badged the week with recognisable branding, webpage and consistent key messages.
The campaign achieved coverage in news, events, and influencer activity on each day during Talk Money Week via Money Advice Service and partners including Monzo, HMRC, StepChange and Age UK.
The inaugural Talk Money Week was a resounding success, reaching 75 million via traditional media – including appearances on BBC 2's Victoria Derbyshire and a double page spread in Daily Mirror – social media posts being seen by 5m people, influencer activity reaching 3m, and around 8k tweets using #TalkMoney.