Explore Learning
Launching Explore at Home
When all 144 tuition centres shut their doors overnight as a result of COVID-19, Explore Learning was presented with an immediate challenge, which saw the company pivot to an online learning offer to minimise impact. Third City was tasked to help successfully launch 'Explore at Home', retaining existing members and encouraging new customer sign-ups.
With research suggesting a 29% uplift in social media usage among our target parent audience in the initial weeks of lockdown. We focused on influencer relations to promote trials, with earned media falling out of this.
We identified a range of influencers that indexed among our target audience: parents and/or teachers of school age children those on lower incomes with a skew to families. This included celebrity mathematician Bobby Seagull, TV personality Peter Andre and parent-parent influencer Travel Mad Mum (aka Karen).
For the initial launch of Explore at Home, we billed Bobby as our Mid-Morning Maths Expert. This saw him host three live streamed maths lessons per week on Facebook. This was supported through paid social and broader media relations – including an interview on GMB and some online backing from broadcaster Louis Theroux.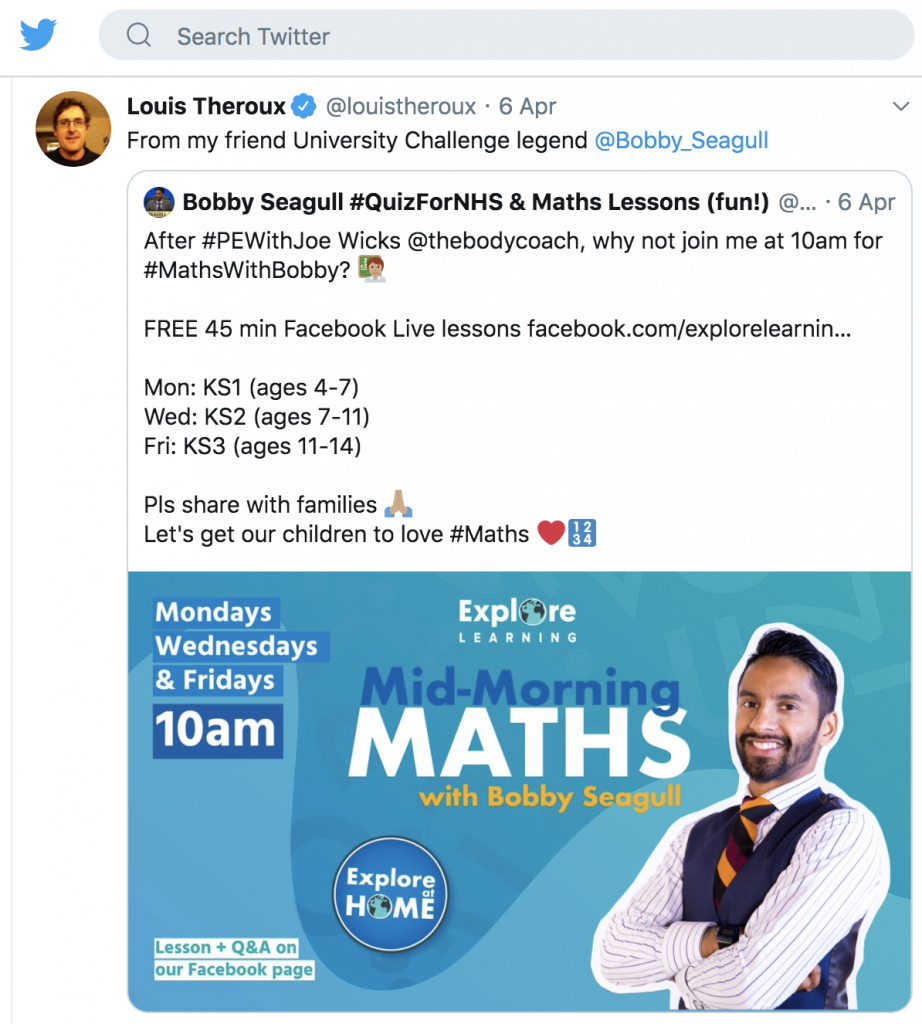 Alongside this, we ran a successful Instagram campaign with Peter (1.4 million followers) and Karen (104k followers). Over six weeks, they documented the progress of their children via a combination of stories and static posts. Each post or story included a tracking swipe up link – driving people to sign up for a free trial lesson on site. We also harnessed the on-going 'celebrity' appeal of Peter and Bobby, offering both for promotional interviews in key media titles.
Our influencer activity saw a spike in audience growth (280%) on the Explore Learning Instagram and Facebook (200%) pages – and provided their most 'watched' and 'liked' posts to date. In addition, we generated 37 pieces of national and consumer coverage, including Good Morning Britain, Loose Women, The Financial Times, The Daily Mail, Heart Radio Network and The Sun.
Most importantly, website visits and trial completions increased significantly over the campaign period.